Overview
You can't go wrong with Captain Andy's adventures. We've tried others and are sold. The crews are super friendly, the boats top notch and the adventures are worth every penny. You might even go to the best snorkel of your life! This post is about an adventure that only happens if the swells are up on the Napali Coast. Read on about the magical Kipu Kai.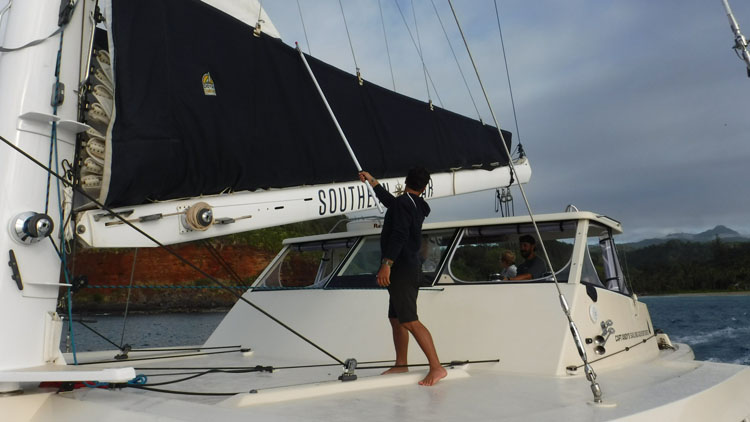 The Details
Captain Andy's Napali Adventures is located in Eelele, west of Kalaheo. Some trips set off closer to Poipu (like the Sunset Cruise). We've been on all three – the sunset, the Napali snorkel and a very special trip to the south and Kipu Kai. When the swells are too high up north they travel south, stop at the Poipu Caverns (that's where I got the turtle coming up from 60 feet below) and end up to the very south of Kauai at Kipu Kai where you snorkel pristine waters. Kipu Kai, by the way, stood in for the family property on The Descendants movie with George Clooney.
You can also get to Kipu Kai by going on an ATV adventure with the owners. We haven't been on that one yet, but it might be worth checking out. Along the way to Kipu Kai you stop at the Poipu Caverns. They are just offshore of Poipu beach and a favorite spot for SCUBA divers. You can see down 60 feet and watch divers at the bottom and witness Green Sea Turtles (called "Honu" in Hawaiian) 🌺 rise to the surface and then dive back to the bottom.
At Kipu Kai
The boat comes around a point and you see Kipu Kai before you – cliffs to the left and a beautiful beach in front. You can't land on the beach, but the boat takes you over toward the cliffs where you enjoy crystal clear waters and abundant fish.
How do you get on this tour?
Here's the tip: When you get to Kauai (or before you arrive) call Captain Andy's at (808) 335-6833 and ask them to call you in the morning (or the evening before) if they plan to go to Kipu Kai. A lot of folks will cancel if they can't get up on the north so there'll likely be space. Have fun!